Welsh Narrow Gauge Steam 2022
Narrow Gauge Steam for photographers in Wales 29.10. - 11.11.2022
Wales, especially in November, can be very wet and windy, but when sunny moments appear and the countryside is bathed in golden light with the low sun beaming out of a layer of dark clouds it is worth spending the whole day by the lineside. With luck, a rainbow will frame the whole scene. Together with the huge variety of authentic train compositions and technically interesting locomotives it's worth the effort to come to Wales in November 2022!
During the tourist season there is almost no space for running photo charters; and many nice photo spots are out of reach. Only when the regular service stops you have the time you need – and full access to the rolling stock. Hence we'll return in November.
The tour featuring three of the most scenic Welsh narrow gauge railways and a host of authentic locos and rolling stock combinations spread across twelve days of action-packed entertainment, mostly located within an area designated as a Unesco World Heritage Site. We will again be having three days each on the Welsh Highland and Ffestiniog Railways using a combination of locomotives which are totally authentic and very much appropriate to the lines on which they are operating. We will also be paying an extended visit to the Vale of Rheidol Railway where there is great potential given the right weather conditions and we will have at least two engines per day including another chance to photograph the newly-restored Garratt No.60 as our 2021 visit to this line was not blessed with sunny moments. If at all possible, we will have three locomotives in steam on at least one day at the Vale of Rheidol. We've also included the Welshpool & Llanfair Light Railway in our plans, so we are happy to oblige with a two-day visit to capture The "Earl" in action on a mixed train and possibly more. On the Ffestiniog and Welsh Highland lines we will have at least three engines in steam each day including at least one day with all three available Double Fairlies in action. Add to this the prospect of "Russell" facing chimney first towards Porthmadog on the three WHR days and James Spooner II with Welsh Pony, likely to appear in matching livery, Merddin Emrys and David Lloyd George, plus No. 4 Palmerston provided it has not been withdrawn early (its boiler ticket expires in November 2022, so if we are able to use Palmerston it will be its last steaming before overhaul). This programme has the makings of another truly memorable and outstanding event that you will not want to miss.
Itinerary
The itinerary is, at the moment, only a letter of intent. Due to the pandemic several railways are understaffed and have difficulty in corresponding. So the itinerary below shows what's planned, not what's 100 % confirmed.
| | |
| --- | --- |
| Date | Itineraray |
| 29.10. | Flight to Manchester, arrival by 14 hrs and transfer to Porthmadog. Hotel for the next days in Porthmadog. Departure from the Harbour Station is planned at 8am. |
| 30.10. | Welsh Highland Railway: Featuring Russell turned and working chimney first out of Dinas on its own heritage stock, Baldwin 608 and James Spooner II on the Colonel Stephens green heritage stock, top and tailed for use in either direction according to light. |
| 31.10. | Welsh Highland Railway: Russell on its own heritage stock along with James Spooner II and Welsh Pony top and tailing on the Colonel Stephens heritage stock for use in either direction |
| 1.11. | Welsh Highland Railway: Russell, James Spooner II and Baldwin 608 on two trains of heritage WHR stock. |
| 2.11. | Ffestiniog Railway (earlier departure at 7am): Welsh Pony on the FR vintage set, James Spooner II on the slate train, Merddin Emrys on the bug box train, plus the Ffestiniog Railway goods train featuring various locos from the three during the day. |
| 3.11. | Ffestiniog Railway (again departing at 7am): Great day with three Double Fairlie locomotives: James Spooner II, Merddin Emrys and David Lloyd George on the vintage passenger set, slate train and bug box train and goods train. |
| 4.11. | Ffestiniog Railway (departure 7am again): Welsh Pony and James Spooner II with the vintage passenger set and slate train respectively, plus Merddin Emrys and David Lloyd-George with the bug box and goods, plus a night shoot currently planned for Minffordd Station with James Spooner II and Welsh Pony. |
| 5.11. | Chill-out day on the Welsh Highland Railway (departure 10 am) to the Snowdon Parc Brew Pub, locomotive not decided yet, but it will be steam, of course. |
| 6.11. | First out of three days on the Vale of Rheidol Railway: At least two locomotives (expect GWR Nos.7 and 8) will be in steam. We've planned GWR passenger and goods trains. |
| 7.11. | Vale of Rheidol Railway: At least two locomotives in steam with GWR passenger and goods trains. |
| 8.11. | Vale of Rheidol Railway: Today we're using at least two locomotives again including Garratt No.60 and either GWR No.7 or 8. |
| 9.11. | Welshpool & Llanfair Light Railway: 822 The Earl and GWR with a mixed train. |
| 10.11. | Welshpool & Llanfair Light Railway: 822 The Earl and an authentic stock. In the late afternoon we'll return to Manchester and stay in a hotel near the airport or you'll take you own mode of transport back home. |
| 11.11. | Individual return flight home. |
Line description
The Welsh narrow gauge lines are a marvel that traverses so many different landscapes it's almost impossible to give an accurate line descriptions. From the sea at Porthmadog to the Mountains of Snowdonia, my advice is just enjoy it all. The lines are all well covered on the internet. There will be a brief historical overview in the tour brochure. The pictures here give you an idea of the railways and its photographic potential.
Railways for slate transport
The slate landscape of North West Wales has been added to the UNESCO World Heritage List becoming the fourth UNESCO site in Wales. It was announced in July 2021 that the Welsh slate-mining areas comprising six sites had been added to the list of world heritage sites. These include the quarry landscapes found at Dinorwic, Penrhyn and Ffestiniog, and also includes the Ffestiniog and Talyllyn Railways. The FR was opened in 1836 to facilitate better transportation of slate from the quarries to the harbour at Porthmadog for loading and onward distribution by ship, initially relying on a mix of horse-drawn power and gravity before steam motive power was introduced in the 1860s. Blaenau Ffestiniog had become the biggest town in the slate quarrying areas by the mid-1870s, with many tunnels and levels constructed plus hundreds of underground chambers. These and other areas which were once so vibrant in supplying slate to all parts of the world have now been fully recognised for their heritage and historical value.
Locomotives
There are some other factors that may give us one or two additional attractions. On the Ffestiniog, "Linda" is currently receiving a full ten-year overhaul at Boston Lodge Works and should it appear by November 2022, we will do our very best to include it on our Ffestiniog Railway days. The years 2022 and 2023 also feature Centenary Celebrations for the Welsh Highland Railway. Should any additional locomotives be visiting and stay on beyond the planned special events we will again do our best to try and include them in our charters.
Environmental factors
When the weather is dry, the pictures are spectacular and it is this which keeps us returning year after year to capture the magic of the country's scenery and trains. However, what keeps it so green and lush is the regular rainfall levels and you can expect at least some damp periods when the weather is not ideal. Therefore we recommend that you wear some warm clothing, possibly waterproof, and also the wearing of sturdy footwear, again preferably with some element of waterproofing, to be on the safe side. The terrain under foot can on occasion be rough, rocky and slippery – though you are not going to be climbing mountains necessarily. You will be better prepared for an enjoyable charter experience if you are wearing the appropriate clothing; if it proves to be warmer and/or drier than you expect, you can always take a couple of layers of clothing off, but if you are wearing too little or the wrong type of clothing, there may not be a nearby outdoor shop on hand. Most passenger coaches we're using do not have a heating system.
Small Print
The tour is arranged by Bob Branch and David Williams in conjunction with Paul Lewin, the GM of the F&WHR, who together have over 20 year's experience in organising photo charters on the F&WHR. Between them there is very little else to add to the expansive itinerary as planned.
The itinerary might need some adjustment. Locomotives are not guaranteed, they can fail, especially after a long summer season (which we all hope is on). But the number of available locomotives means that we'll have a good variety of different engines of different classes.
On most days we will not be stopping for a lunch break, so please bring water and or other non-alcoholic liquids with you, and suitable energy bars or snacks. The exception is the one leisure day in our Pullman cars where we'll have sufficient time for a meal.
Although we hope for the better, Wales can be very wet and cold in the first week of November. Please wear appropriate cloths (see above). Please remember that at this time of the year the sun, if any, will take quite a while to come over the Snowdon range of mountains.
In regards to operating on the WHR we have to cross the standard gauge line, which is controlled by Network Rail, at possibly set times during the morning and afternoon either side of service trains to and from Phwelli and this may restrict our time, however in past years this has not been an issue.
While writing this, the pandemic situation in November 2022 is currently unknown. In mid October we'll send the participants an update about the current situation and the requirements.
There are two ways you can participate: Option A: you book the trains only and arrange everything BY YOURSELF or you book. Option B: the full package including airport pick-up, transfers, hotels and breakfast.
The tour is arranged any guided by Bob Branch and David Williams, so please do not expect the usual FarRail standard on the tour. Announcements will be very, very sparse; we'll often spend much time at the same position and do some variations of the position and we will do it the relaxed way. However, if the weather cooperates you'll get some magnificent pictures.
Safety is a major issue in UK; the safety rules are as strict as they're used to be in developed countries. Jumping on and off trains is strictly prohibited and will not be tolerated. On several railways they will lock us in when travelling and open doors only when the train stops. Windows can be opened, however. You always need to follow the instructions of the railway staff and we may need to sign a waiver. Standing too close to the track is not advisable, especially in regards to the very tight clearances on all of these railways. We're not allowed to do any sort of "gardening", as after all the WHR in particular runs through the Snowdon National Park and they would take an extremely dim view of tree pruning.
Always use common sense when crossing roads and railway tracks. Neither FarRail Tours nor the local providers can be held responsible and will not accept any liability whatsoever in the case of any accident or damage or issues, additional costs etc. caused by delays or changes in the timetables. We recommend you to take out an accident insurance and travel cancellation insurance.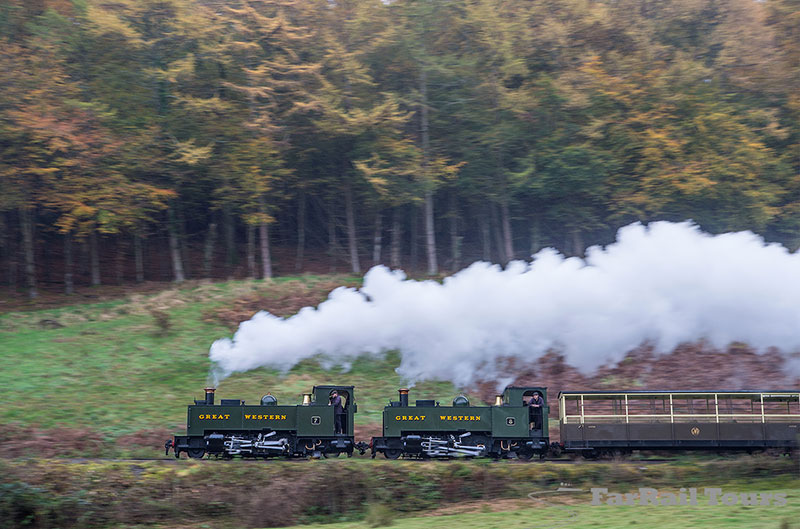 Price
Option A:
Welsh Narrow gauge Explorer from 25 participants £ 1,300
30.10. – 10.11.2022
Option B:
United Kingdom
Welsh Narrow Gauge Explorer
35 to 60 participants
£2,570
29.10.2022 – 11.11.2022
Single room surcharge
£470
Registration Deadline: 01.08.2022
Price trains only: £1,300
The price includes
Option A:
Charter trains as described only
Option B:
All transfers in UK from/to airport Manchester
Accommodation in hotels and holiday apartments next to the railways
Breakfast (usually a full English breakfast although we're in Wales)
Charter trains as described
Guides (English and German speaking)
Not included are:
Travelling to the airport Manchester (Option B) and to the railways (Option A)
Visa if required
Meals and beverages
Personal expenses like telephone, laundry, mini bars in the hotels
Tips for local staff (please calculate around £6 per day)